Special Educational Needs Disability Information Advice Support Service (SENDIASS)
New Parent Information from SENDIASS:
SENDIASS have a new offer for parents. The new website has lots of useful information and guides. The website continues to be updated so please keep checking for new information. The News and Events page gives dates and times of workshops (workshops dates are advertised on SENDIASS website https://sendiass.leeds.gov.uk/ news and events page), parents and carers need to email / call the advice line to book on. The offer details have all the contact details.
Please see below links to Facebook, Youtube, Instagram and Leeds Local Offer (LLO:-
Facebook: https://www.facebook.com/groups/356141779086693
YouTube: https://www.youtube.com/channel/UCHzY7c0_VtCPjf_Spem9vfQ?view_as=subscriber
Instagram: https://www.instagram.com/Leedssendiass
Click here for the Leeds Local Offer.
Click here for our GDPR information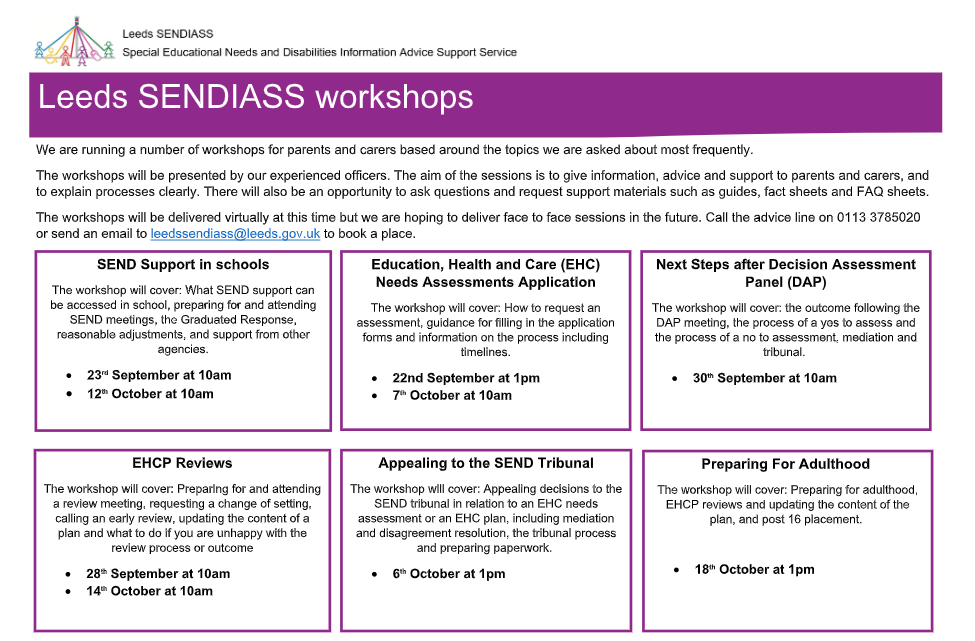 Hello all - if you have a child with additional or special needs and you would like further advice or support in helping them with learning at home, please contact Amanda Armstrong, Assistant Headteacher for Inclusion / SENDCo via email at this address: amanda.armstrong@hg-ps.org - I am happy to help.
CONTINUING TO SUPPORT HOME LEARNING FOR CHILDREN WITH ADDITIONAL OR SPECIAL EDUCATIONAL NEEDS:
During lockdown, in addition to the google classroom lessons, we provided a comprehensive route to learning platforms and activities for children with SEND. Following the lockdown restrictions, we remain committed to keeping all our children educated and engaged in learning both at school and at home. For this reason, all home-learning links that can be found on our SEND Home Learning page will remain in place. This will ensure that parents can continue to access these resources if it will benefit the continuity of learning and engagement for your child / children. You can find the resources by clicking here Please take a look and choose the ones you think would be good for your child to use at any time, especially for enjoyment:
We advised you to use the link below to support your child in returning to school following the lockdown periods - however, we will maintain the link for you to access and possibly support you in using similar strategies for other transition events in your child's life:
https://www.schudio.tv/courses/preparing-autistic-send-children-for-going-back-to-school (it could support you with preparing your child).

From the Department for Education, have a look at the selection in this link:
Active screen time using dance, yoga, mindfulness and games. Read the rave review below!
Let's Get Talking
A lovely non-screen time, back to basics approach involving simple interactive activities. See attached.
SEND Coronavirus Resources
Sheffield NHS coronavirus resources includes a 'hibernation pack', talking about feelings, daily activity symbols, visual schedules for home and much more.
A free safe online counselling service for 10-18 year olds to support their resilience and wellbeing. Watch this short video to learn more about the service offer.
'I don't think I could've spoken to someone face to face.'
Go Noodle review
'My son has Epilepsy and complex special needs, which results in him struggling to focus as well as presenting as hyperactive and impulsive. He loves playing the games on the Go Noodle App as they are really engaging and fun. He has been off school for over a week now and keeping him active and focused at home has been a challenge, but with this app he has to move around to play the game so is able to burn off his extra energy. He particularly enjoys the 'Space Race' game in which you have to use your whole body to move the alien on the screen to catch as many stars as you can. After using the app my son is calmer and able to focus on some tasks as he has got all his energy out in a fun way. My older teenage son even gets involved too and plays some games with his brother. The best bit is that it's free to use and he can use it independently on his iPad or the TV.'
The Local Authority team have shared some resources to support home-learning, including advice and support for pupils with additional or Special Educational Needs.
Reading & Writing
For learners who usually benefit from additional reading and writing support when at school Crick Software is offering every school free access for their pupils and teachers to use on their home devices. Choose from:
Clicker for primary schools – works on iPad, Chromebook, Windows & Mac.
DocsPlus for secondary schools – works on Chromebook, Windows & Mac.
Simply complete this access request form and they will be in touch with your access codes and installation instructions.
Further information call 01604 671691 or email info@cricksoft.com.
AUTISM
STARS are available for Parents - please see these flyers to explain who STARS are, what they can do and how they can support you via drop-in meetings:
Friday 10th September

Wednesday 22nd September

Friday 1st October

Wednesday 13th October

Friday 5th November

Wednesday 17th November

Friday 3rd December

Wednesday 15th December
SPRING & SUMMER TERM DATES will be published at a later date.
Professionals and parents/ carers are welcome to attend the drop in/ book telephone appointments.
STARS have put together a wide range of resources http://www.starsteam.org.uk/coronavirus-resources including Covid 19 social stories, symbols for using at home, Talking Mats for social distancing, structuring the day and keeping busy and loads more! Also see attached booklet which may be of use to your staff in school.
Reading Wise
Offering free resources for reading and literacy during period of school closure.
Online reading programmes that can all be accessed at home and teachers can administer them remotely.
https://readingwise.com/coronavirus-support
Year of Reading
David Walliams is releasing a free audio story every day at the moment
https://www.worldofdavidwalliams.com/elevenses/
Support for CLA & CYP affected by trauma
Dr Dan Hughes - Parenting a Traumatised Child While Living through COVID 19
The Trauma Therapist Podcast - Staying emotionally close in time of COVID 19
SPEECH AND LANGUAGE THERAPY - CONTINUING SUPPORT:
If you know that you child has had assessment and is receiving therapy from the school commissioned Chatterbug team, or has been assessed and school have been supported with targets for planning, please see the letter below, from our Chatterbug team. Please be aware that this is not the NHS speech and language team.
Special Education Needs
We have a quality first teaching approach to meeting the needs of all our pupils at Hugh Gaitskell Primary School and this includes supporting pupils identified as having additional or Special Educational Needs or a disability. Our priority focus is to ensure that all children have access to a good quality education that supports and facilitates our children not only to engage meaningfully in all lessons through our inclusive approach, but also ensures that they are happy in the progress they make and enjoy their time at school.
There is a personalised and differentiated approach to accurately meeting the needs of our pupils and this can be seen through our 'School Support' individual provision approach, or through our targeted planning for children with Education Health and Care Plans (EHCPs). There is a progressive approach to our Individual Provision Maps with 3 phases that identify strategies and approaches used at a quality first level, but also outline interventions if required.
We are committed to working in partnership with parents and including both child and parent voice to support us in ensuring our children are happy, engaged in learning and participating in decisions to inform their future. If you have any questions regarding your child's progress or concerns about their learning needs, please contact your child's teacher in the first instance. You can also discuss approaches to support and meet your child's additional or Special Educational Need with Jo Byndloss (SENCo) and Amanda Armstrong (Assistant Headteacher for Inclusion) or a member from our Pastoral team.
Overview of the Pastoral Team
Meet the team
Mrs L Fox Mrs S Belton
Deputy Headteacher and Inclusion Manager Lead Safeguarding Officer
Ms R Eaglen Mrs K Hallas
Acting Attendance Officer Learning Mentor
Mrs A Armstrong
Assistant Headteacher for Inclusion/SENCO