Our Governors
Meet Mr Melvyn Blackband
(Chair of Governors)
After a long career in education, as Headteacher of two schools, local authority inspector and Ofsted senior inspector, I have now retired. Becoming a Governor, and now Chair of Hugh Gaitskell Primary School, has been a real pleasure, especially as over the last year we have seen the school grow and flourish and amply rapid our high expectations.
I have always been passionate about disadvantaged pupils and those with special needs and it has been wonderful to see those groups of individuals have developed.
A little about me: I have two daughters both of whom have two children. My wife sadly died in 2014. I am involved with my local church and I volunteer support at Leeds Civil Court.
Mr Melvyn Blackband
Meet Mr Eddie Leatham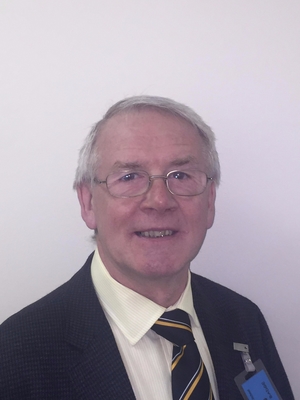 My name is Eddie Leathem. I was born in Glasgow in 1948, moved to London in 1958, married and then relocated to West Yorkshire in 1976.
I have one son, Joseph (aged 27) and one grandson (aged 1).
Most of my primary education was at St Columbia R.C. Primary School in Maryhill, Glasgow. My secondary school was at St Francis R.C Secondary School in London. I left school aged 15 and was apprenticed as a print finisher at The Baynard Press, attending day release courses at the Camberwell School for Arts and Crafts and The London College of Print.
I am now retired from work after 50 years in the printing trade. These days, I am an active member of the Labour Party, have
I am currently Vice Chair of Hugh Gaitskell Primary School's Govering Body.
Mr Eddie Leathem
Meet Ms Aftar Waris
I was born in Burton Upon Trent in Staffordshire where I also started my first school based job at a local Primary School at the age of 19.
After 3 years, I decided on a change of career so in 1998 I began my University Studies for a Degree in Law, graduating with an LLB (Hons) degree in 2001, whilst also continuing to work as an ESOL Lecturer for Staffordshire County Council. I completed my Legal Practice Course at the College of Law in Birmingham and then commenced my career in the legal profession in 2003 initially with the Legal Services Commission and then with a well-known National Law Firm with whom I also secured my Training Contract and went on to qualify as a Solicitor.
I initially specialised in Professional Negligence claims, which brought me to the Leeds Office of the Firm that I worked for. I have lived in Leeds since 2007, albeit I have worked across Yorkshire including a 3 year stint in York where I began specialising in Clinical Negligence claims. I continue to specialise in this area of law.
I am married and have two sons, a 9 year old and a 7 year old both of whom are pupils at Hugh Gaitskell Primary School.
I joined HGPS as a Parent Governor in September 2016 and am a Member of the Joint Review Group and also the Finances Committee. I am the Governor that oversees Equalities and Child Protection/Safe Guarding at the School.
Ms Aftar Waris
All schools in England have a Governing Body which is responsible for overseeing many of the strategic decisions of the school. A key role is to act as a 'critical friend': to support, to challenge, to ask questions, ultimately to represent the school community.
The Governing Body works in close partnership with the headteacher, staff and the local authority. Whilst the headteacher is, of course, responsible for the day to day running of the school, the governors are involved with such things as staffing, curriculum, school buildings and finance. It ensures the school functions well and maintains the proper range of academic and social objectives.
Governor Type
Name
Responsibility
Term of Office
Register of Business & Personal Interest
Head Teacher
Mrs Kathleen McNulty
Dr Melvyn Blackband

Chair of Governors

Special Educational Needs/ Pupil Premium

24/09/15 - 24/09/19

Form completed- N/A

Parent
Ms Aftar Waris

17/05/2016 - 17/05/20

Form completed- N/A

Parent
Ms Nabila Akram
Performance Management
Form completed- N/A
Co-opted
Mr Eddie Leathem
Vice Chair of Governors
08/07/14 - 08/07/18
Form completed- N/A
LA Representative
Mr Peter Aves
17/05/16 - 17/05/20
Staff
Ms Karolina Gieleta-Bak
Training Governor
08/07/14 - 08/07/18
Form completed- N/A
Staff
Mr Michael Dudziak
27/03/17 - 26/03/21
Form completed- N/A
Associate
Mrs Jacqueline Padgett
Deputy Headteacher
-
-
Associate
Miss Chantelle Hudson
Deputy Headteacher
-
-
Associate
Mrs Kerry Seymour
-
-
Associate
Mr Simon Bulmer
School Business Manager
-
-
Our Committee Groups
Joint Review Group
Mrs Trish Lowson (School Improvement Advisors)
Dr Melvyn Blackband
Mrs Kathleen McNulty
Pupil Support Committee
Mrs Sarah Belton
Mr Eddie Leatham
Mrs Kathleen McNulty
Resources Committee
Mr Eddie Leathem
Mrs Kathleen McNulty
Mr Simon Bulmer
Scheduled Meetings
Full Governing Body Meetings
24th September 2015
21st January 2016
26th May 2016
28th September 2016
24th November 2016
Resources Committee
12th November 2015
25th February 2016
5th May 2016
13th October 2016
2nd February 2017
Pupil Support Committee
5th November 2015
31st March 2016
9th June 2016
Joint Review Group
12th November 2015
14th January 2016
10th March 2016
8th September 2016
3rd November 2016
7th February 2017
Governing Body Meeting Attendance Register